Singclean Cooperate Citizen: Assume Social Responsibility and Carry out Public Welfare Activities
Singclean Cooperate Citizen: Assume Social Responsibility and Carry out Public Welfare Activities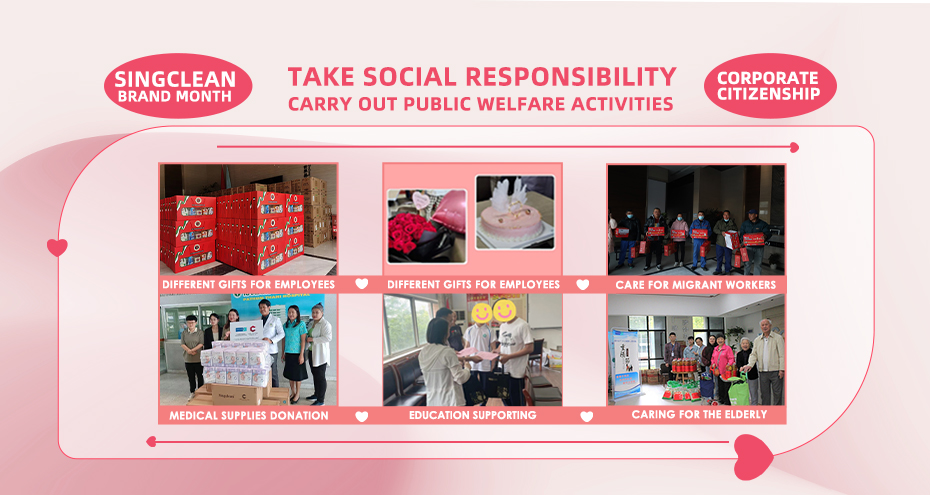 Singclean has always been adhering to the sense of social responsibility, actively participating in and carrying out various social welfare activities while strengthening the construction of its own employee benefits. As a medical device company with far-reaching influence in the industry, Singclean knows that its success is inseparable from the support and trust of society.
Therefore, Singclean firmly believes that giving back to society and fulfilling corporate social responsibilities is the duty and mission of an enterprise.
1. Benefits for Employees
In the past year, Singclean has set up many benefits for employees.
On every important festival, such as Dragon Boat Festival, Spring Festival, Labor Day, and other festivals, we will prepare a lot of holiday gifts (washing supplies, food, and household appliances) for employees to celebrate the coming of the festival with them.

At the same time, Singclean also prepared anniversary gifts and birthday gifts for each employee, thanking the employees for their dedication this year.
Strengthening the construction of employee benefits is not only to provide employees with some additional benefits but also a strategic investment, which has a profound impact on the long-term development and success of the company. In a highly competitive talent market, recruiting and retaining excellent employees is the key to business success. Offering attractive employee benefits packages can help businesses attract high-quality talent, retain them, and reduce employee turnover.
At the same time, it can improve employee satisfaction and loyalty, improve employee efficiency and productivity, and ultimately shape corporate image and brand value.
2. Public Welfare Activities
The significance of public welfare activities to the company is not only to help and improve social conditions but more importantly, it reflects our values and long-term development strategies as an enterprise. By actively participating in public welfare undertakings, we hope to leverage our expertise and resources to make substantial contributions to society.In the past year, Singclean has focused on public welfare activities in the fields of education, socially disadvantaged groups, and public health.
Singclean cooperates with local schools in Qingtian to provide living assistance and scholarships to students from difficult families, helping them realize their dreams.

Singclean also actively participates in public welfare activities to protect vulnerable groups in society. They not only prepare some living materials for the elderly in the community to help them maintain their lives.

Singclean will also invite sanitation workers in the community to celebrate together during the festival, and at the same time prepare living materials for them, thanking them for their contributions to the community and the environment in the city.

Singclean also cooperated with Cosmy to provide Covid-19 antigen test kits to Thai government hospitals to help them fight the epidemic and improve public health.
In the future, Singclean will continue to be committed to carrying out public welfare activities, and will continue to increase investment and efforts in education, socially vulnerable groups, and public health, and plans to cooperate with more charities and communities to promote the implementation of more meaningful projects.
As a company with a sense of social responsibility, Singclean will always practice the role of a corporate citizen, not only focusing on its own interests but also the well-being of society. Singclean will continue to actively advocate corporate social responsibility, and work together with partners from all walks of life to jointly promote the sustainable development of society, create more value for society, and benefit more people.