In Vitro Diagnostic Reagents Products
LH CE Approved
Luteinizing Hormone (LH) Ovulation Test Kit (Colloidal Gold)
For Self Testing Specimens: Urine
[Kit Contents]
Strip / Cassette/ Midstream, Dropper (for cassette), instruction for use, Desiccant.
[Equipment required but not supplied]
Stopwatch, Disposable specimen container.
[Storage and Expiry Date]
1.Store the Kit at 4~ 30℃, Keep in a cool and dry place, protected from light. Do not freeze.
2.See the package with expiry date.
[Performance Characteristics]
1.Sensitivity:
The Luteinizing Hormone (LH) Ovulation Test Kit detects LH at a concentration of 25mIU/mL or greater.
2.Specificity:
2.1 Cross-reactivity: The results are negative when detect follicle stimulating hormone (FSH, 200mlU/mL) and thyroid
stimulating hormone (TSH, 250 μ IU/mL).
2.2 Interfering substances: The following potentially interfering substances have been detected. None of the substances
at the concentration tested interfered in the assay, and the urine with pH (from 4 to 9) also did not interfere the test result.

3.Precision:
Detecting the LH control materials at the same concentration, the results are consistent, and signal intensity (color) almost be same.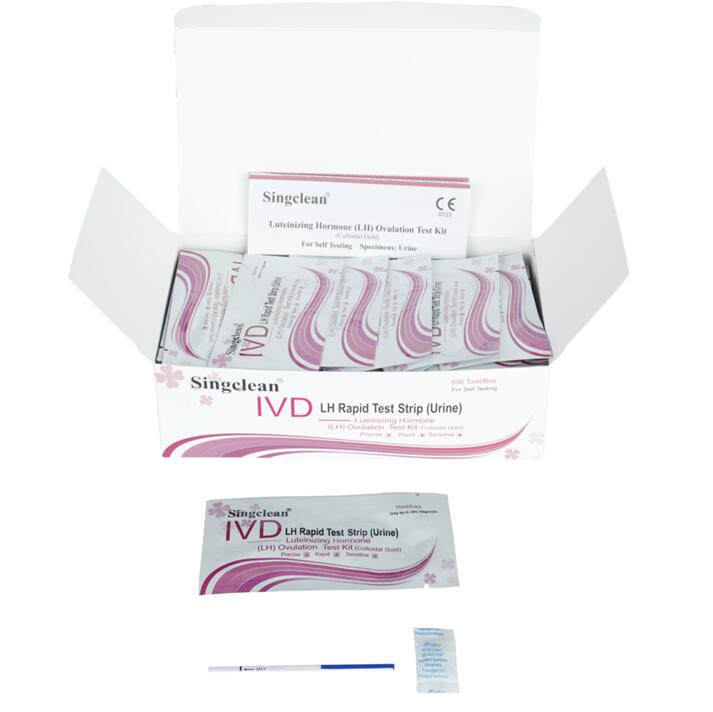 Specifications
Applicable scope
It is intend for qualitative determination of LH levels in women urine to predict ovulation time, so as to guide reproductive women to choose the optimal conception time or safe period contraception.