In Vitro Diagnostic Reagents Products
HCG CE Approved
Human Chorionic Gonadotropin (HCG) Pregnancy Test Kit (Colloidal Gold)
For Self Testing Specimens: Urine
[KIT CONTENTS]
-Test stripl Test cassette /Test midstream-Dropper(for test cassette)
-Desiccant
-Instruction for use
[EQUIPMENT REQUIRED BUT NOT SUPPLIED]
Stopwatch,Disposable specimen container.
[PERFORMANCE CHARACTERISTICS]
Accuracy
A accuracy evaluation was conducted comparing the results obtained using the hCG pregnancy test kit to another commercially available urine membrane hCG test. The study included 160 urine specimens, and both assays identified 89 negative and 71positive results. The results demonstrated >99% overall accuracy of the hCG pregnancy test kit when compared to the other urinemembrane hCG test.
Sensitivity and Specificity
The hCG pregnancy test kit detects hCG at a concentration of 25mIU/mL or greater. The test has been standardized to the W.H.O. International Standard. The addition of LH (500mIU/mL),FSH (1,000mIU/mL), and TSH (1,000μIU/mL) to negative(0mIU/mL hCG) and positive (25mlU/mL hCG) specimens showed no cross-reactivity.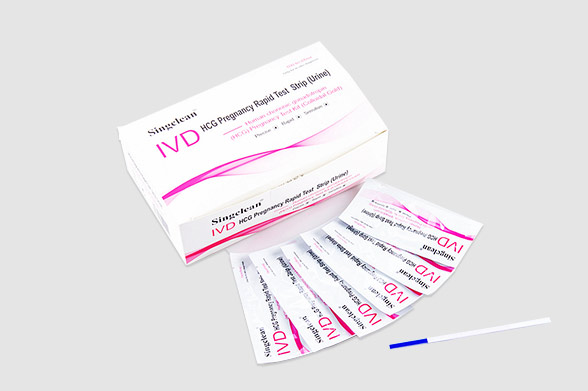 Specifications
Applicable scope
The human chorionic gonadotropin (HCG) pregnancy test kit is a rapid, one-step lateral flow immunoassay for the qualitative detection of human chorionic gonadotropin (HCG) in urine to aid in the detection of pregnancy. The test utilizes a combination of antibodies including a monoclonal HCG antibody to selectively detect elevated levels of HCG in urine to aid in the early detection of pregnancy for self-testing. It obtained the result from the colored lines.