Singclean COVID-19 Self Test Nasal Swab gets EU Certification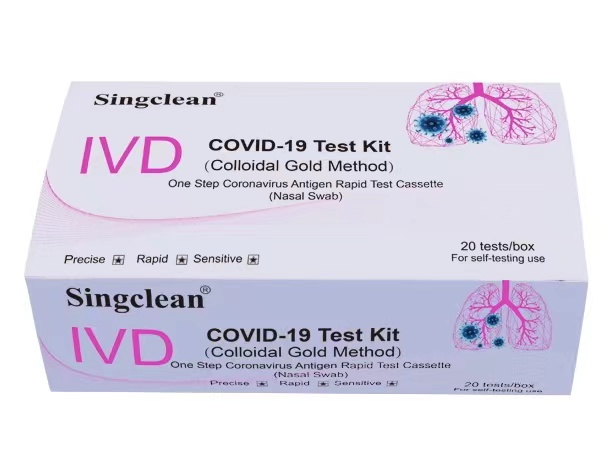 23 September 2021, Singclean's first COVID-19 Test Kit (Colloidal Gold Method) nasal swab has officially got EU certification from Polish Centre for Testing and Certification, and gained access to the EU market, confirming a high-quality performance and excellent user experience of this COVID-19 antigen self test kit through EU regulation.
In China, there are only 10 in vitro diagnosis product companies have EU certification for COVID-19 self test, while in the whole world, companies with self test CE certificate are still rare due to the difficulty and long cycle of EU self test certification. According to IN VITRO DIAGNOSTIC MEDICAL DEVICES DIRECTIVE (98/79/EC), test kit for professional use can be EU certificate approved by providing the product technical file, declaration of conformity, product registration and European representative agreement. For self test kit, however, it belongs to another category and should be intervened by the notify bodies for licensing. The certification model and market access requirements differ self test certificate from test kit for professional use by a stricter requirements.
In current European, over 50 test kit brands enter Bfarm whitelist. The competition in between causes uneven product qualities and confusing distribution channels in local test kit market. However, the Bfarm whitelist is only a temporary policy to fulfill the needs for at home test. Under the circumstance of chaos local test kit market, it is possible for local market to change the requirement and seek to cooperate with companies that have better quality products. Approving EU certification means that Singlcean self test kit is guaranteed by European policy, and is able to sell in EU member countries as well as areas that recognize the CE mark.
Almost at the same time as achieved EU Certification approval, Singclean Thailand distributor, Bio-Active Co., Ltd., has also received regulatory approval for the product of COVID-19 Test Kit (Colloidal Gold Method) nasal swab in Thailand via Thailand Food and Drug Administration (TFDA) , officially allowing this product to enter local market and help reduce the diagnosis pressure in southeast Asia.
As a COVID-19 self test kit, this product is able to be used at home without professional workers or other diagnose equipment involved, limiting the potential infection of coronavirus. Customers can purchase Singclean COVID-19 Test Kit (Colloidal Gold Method) nasal swab in local pharmacy and test at home, satisfying the national needs of home testing prevention and control.
By using the colloidal gold method, the test can form an antigen-antibody complex and show a red line in T-line in 15 minutes if there is COVID-19 antigen in the specimen. As a primary diagnosis equipment of COVID-19, self test nasal swab will be beneficial to help controlling the spread of coronavirus because it avoids person-to-person contact through out the testing process.
As one of the ten companies who have CE approved COVID-19 self test, Hangzhou Singclean Medical Products Co., Ltd. is a national high-tech enterprise integrating the R&D, production and sales of in vitro diagnosis. Before the self test product, Singclean has already invented other COVID-19 test kits including IgG/IgM Antibody Test, neutralizing antibody , saliva antigen test, nasal antigen test and nasopharyngeal antigen test for professional use. Based on these products, the R&D group newly invented the COVID-19 Test Kit (Colloidal Gold Method) nasal swab to help solve the problem of a worldwide lack of test kit. With well-qualified staff, thorough quality management system and first-class facilities, the company ensures the continuous production of in vitro diagnosis product that conform to the laws and regulations of CE certificated and EU MDR.
Since December 2019, the novel coronavirus has spread the world, attacking public health without any expectation. As of September 2021, the COVID-19 epidemic has caused over 23 million people diagnosed and more than 4 million deaths in the world. After almost two years responding to this crisis, the coronavirus is still a major health care problem throughout the world. The new variant Delta virus from India now aggravates the epidemic, violently attacking the European health care system. In the recent research, Delta variant has already become one of the most dangerous viruses due to its higher contagious ability and the severe illness it caused.
For the purpose of stopping Delta variant separation, massive testing and quarantine of the positive group are necessary. contributing to epidemic control, Singclean COVID-19 Test Kit (Colloidal Gold Method) nasal swab now is also able to test the virus variants including Delta variant B.1.617.2, British Alpha variant B.1.1.7, Brazil Beta variant B.1.351 and others with high accuracy. Meanwhile, Singclean will continue maintain the quality of our products, improve the accuracy rate, continuously upgrade our production technology and production conditions.