Why COVID-19 testing is still important?
2021-05-19
Return list
COVID-19 testing is still working as a key part to significantly slow the spread of COVID-19 by identifying those who have the virus and help them get treated earlier.
This is even more crucial with the new, contagious variants of the coronavirus now spreading rapidly in the whole world.
India has reported more than 25 million COVID-19 cases in total. The number is estimated to be an understatement because of a lack of coronavirus testing capacity. Many people especially in rural villages won't get tested. If we have a clear picture of how many people are infected in our country, then various control measures with different strictness levels can be implemented accordingly.
For people who have no symptoms, who have showed symptoms of infection such as trouble breathing, fever or chills, cough, fatigue, muscle or body aches, new loss of taste or smell, sore throat, headache, nausea or vomiting, diarrhea and who may have been exposed to the virus should get tested early to get treatment and this can greatly help prevent the spread of COVID-19.
It is recognized that almost half of all COVID-19 infections are transmitted by people who are showing no symptoms, identifying infected people while they are asymptomatic and presymptomatic will play a major part in controlling the pandemic.
Now, the covid-19 testing, especially the antigen testing can be accurate, easy and quick.
Most of the antigen testing can provide result in 15 minutes and no special facilities are needed.
Singclean, with 18 years of professional experience, has developed Singclean Nasopharyngeal swab, nasal swab and saliva swab during the COVID 19 pandemic to meet different testing needs.
Comparison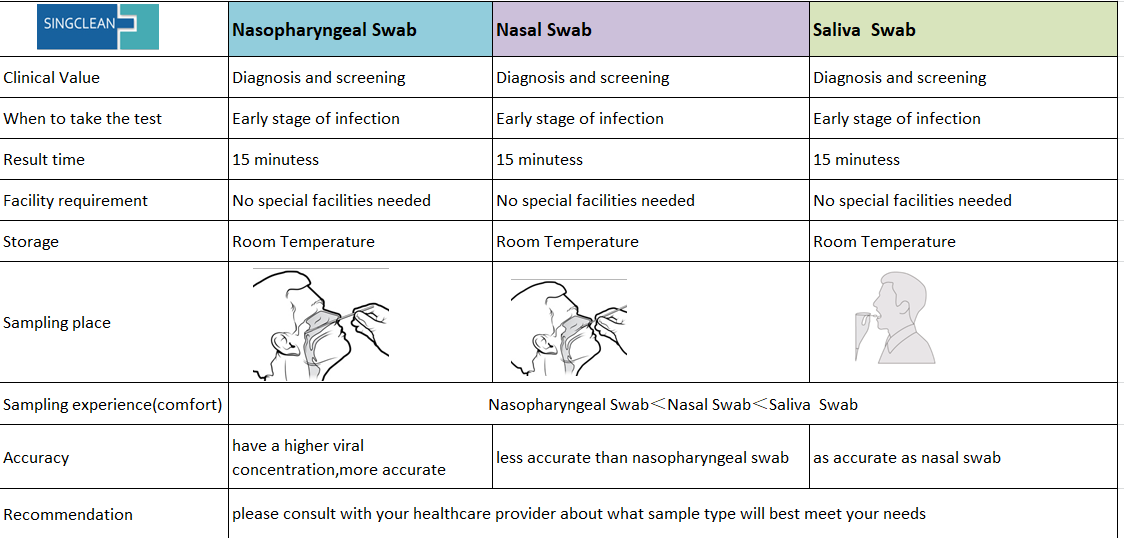 All these three products have got CE mark and clinical data is available for each product.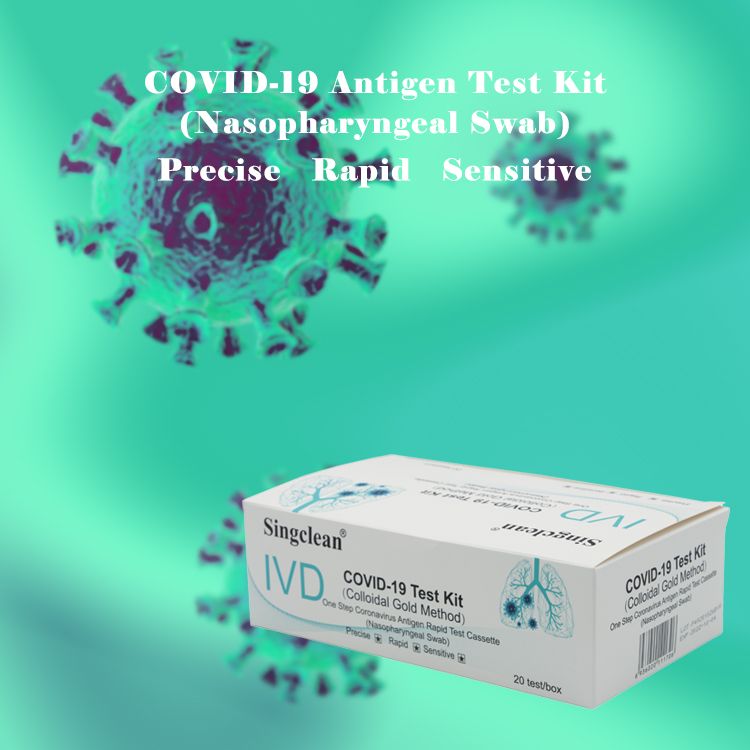 Besides, Singclean COVID-19 Antigen Test Kit (Nasopharyngeal Swab) has been registered in France, Czech Republic, Italy, Greece, Slovakia, Germany, Brazil, Chile, Ecuador, Georgia to help with the early diagnosis to fight against COVID-19 pandemic.
It should be noted that antigen test provides only a preliminary test result. Therefore, any reactive specimen with the COVID-19 Test Kit (Colloidal Gold Method) must be confirmed with alternative testing method(s) and clinical findings.
Though COVID-19 is still spreading, we believe that we each can take some steps to help slow the spread of coronavirus disease, like wash our hands often, wear a mask in public, practice social distancing and get vaccinated for COVID-19.
Please feel free to contact us if you have any questions about Singclean antigen testing!