Company profile
Step by step to become the leader of absorbable biomaterials in China
Hangzhou Singclean Medical Products Co., Ltd. was established in 2003, and currently has 19 years of expertise in the industry of absorbable biomaterial with nearly 400 employees.
There are currently 8 series of products (medical sodium hyaluronate gel products, chitosan products, cross-linked sodium hyaluronate gel products, microporous polysaccharide products, oxidized regenerated cellulose products, in vitro diagnostic reagent products (immune method and biochemical method), collagen sponge, regenerative medicine engineering basic material products) with 50 varieties which are exported to more than 70 countries around the world, such as: Italy, Russia, Turkey, Brazil, Chile.
The production base covers an area of 28,000 square meters, with 8 GMP purification workshops of 2,000 square meters, a logistics center of 4,000 square meters, and a R&D center and a quality inspection center of 1,000 square meters. Singclean has an annual production capacity of 12 million sets of various medical devices, and can achieve an output value of 300 million euros with an annual sales over 61.8 million euros.
As of March 2021, Singclean has obtained 20 CE certificates, 15 medical device registration certificates and 33 patent certificates, including 3 international patent certificates. In the future, Singclean is aimed to become a leader in the field of absorbable biomaterials in China!
Singclean Medical has always put quality at the first place. High-precision analytical instruments like GC, GCMS, TA rheometer, Malvern particle size analyzer are used by our skilled staff to carry out tests for incoming and outgoing quality control. Meanwhile, Singclean has a strong research and development team with more than 40 experienced engineers. Each year, over 2.8 million dollars is invested into R&D to create pioneering medical products, like tissue engineering products.
Company profile
Step by step to become the leader of absorbable biomaterials in China
Quality policy
Quality first

Management priority

Building a harmonious enterprise

Create a harmonious brand
Corporate culture


Professional, delicate and pragmatic!

Enterprise responsibility


To maximize social responsibility, to ensure the health of patients as their responsibility!

Vision


To be the leader of absorbable biomaterials in china!
development history
Step by step to become the leader of absorbable biomaterials in China
2020
YEAR
Obtained CE certificates of Absorbable Gauze&MPH Absorbable Haemostatic Particles&Applicator
2017
YEAR
Obtained CE certificates of Cross-linked Sodium Hyaluronate Gel, anti-adhension & IVD.
2015
YEAR
Top one in anti-adhesion field; Founded Sweden branch
2013
YEAR
Relocated at Xiasha economic developm6ent area
2012
YEAR
CE certification-Medical Sodium Hyaluronate Gel for Bone Joint
2011
YEAR
50 million USD invested for Xiasha Manufacturing Base;CE certification-Sterile Viscoelastic Solution for Ophthalmic Surgery
2010
YEAR
Nanchang Manufacturing Base went into operation
2007
YEAR
Passed the ISO9001 and ISO 13485, Awarded the title of High-tech Enterprise of Hangzhou city
2003-2009
YEAR
Relocated at Gaoqiao Industrial Park, Built 10,000 class cleanroom, QC Center and R&D center;
2002
YEAR
Hangzhou Singclean Medical Products Co.,Ltd was founded in Fuyang district, Hangzhou
honor
Step by step to become the leader of absorbable biomaterials in China
ISO13485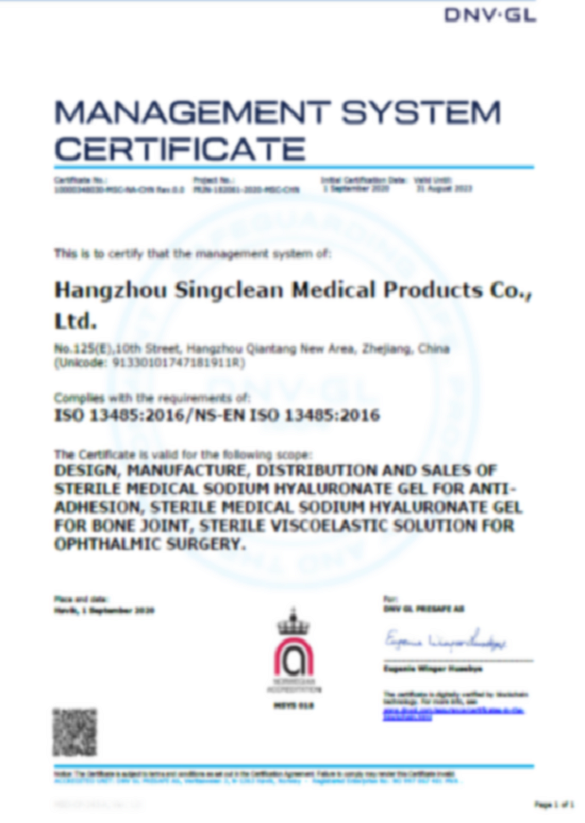 ISO9001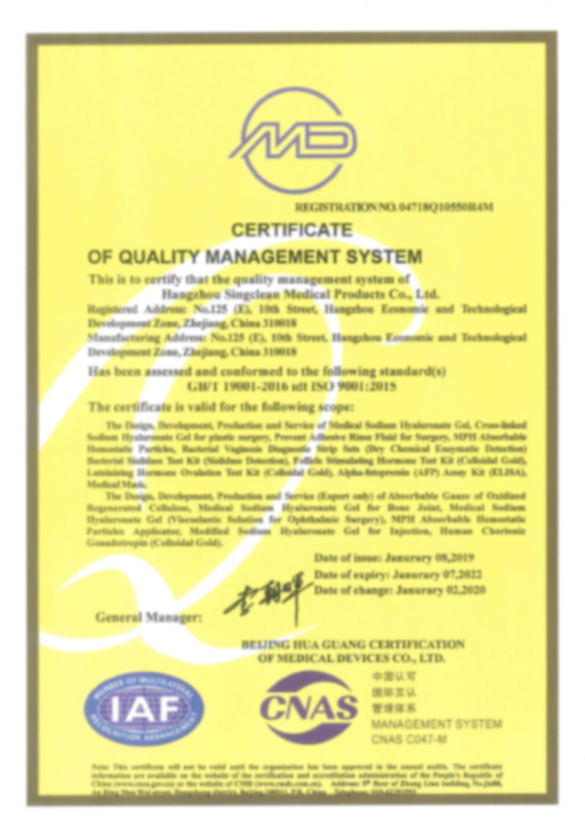 CE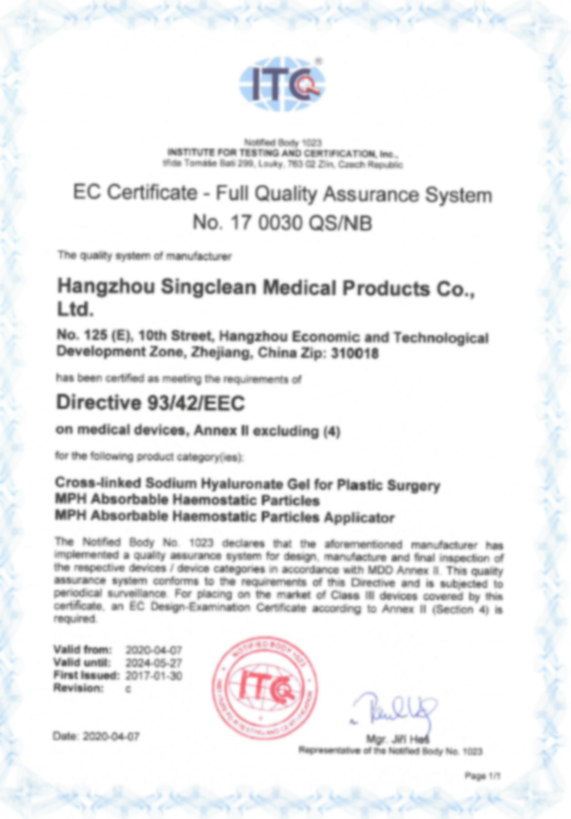 CFDA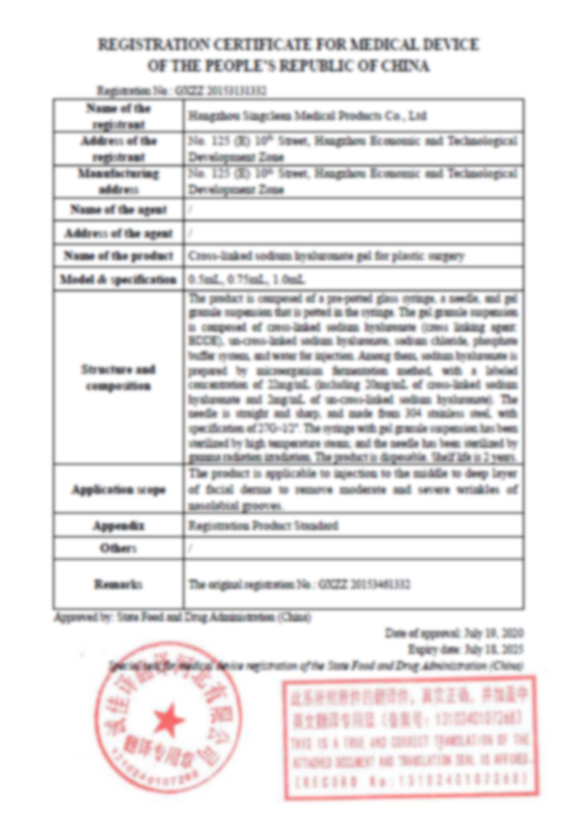 SGS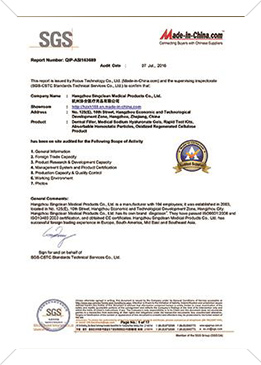 Team
Step by step to become the leader of absorbable biomaterials in China