In Vitro Diagnostic Reagents Products
Bacterial Vaginosis Combo Test Kit CE Approved
Dry Chemical Enzymatic Reaction
[Pack Size]
50 Tests / Box
[Main Components]
This test kit mainly contains BV test reaction device (50 pcs), colorimetric card (1 pc), diluent (1×30mL/vial) and chromogenic solution(1x3mL/vial). Reaction device is made up with plastic substrate and fiter disc. There are leukocyte esterase (LE) well hydrogen peroxide (H2O2) well, neuraminidase(SNa) well and pH value well on reaction strip.The major component of LE well is 5-Bromo-4-chloro-3-indolyl acetate. The major components of H2O2 well are hydrogen peroxidase, 3,5-dichloro-2-hydroxybenzenesulfonic acid sodium, 4-Aminoantipyrene. The major component of SNa well is 5-Bromo-4-chloro-3-indolyl-α-D-N-acetylneuraminic acid sodium.The major component of pH value well is special pH paper.The major component of diluent is sodium chloride.The major component of chromogenic regent is nitrotetrazolium blue chloride.
[Storage and Shelf Life]
Stored at 2℃ - 8℃. It expires after 12 months.The product must be used within 8 hours after the aluminum foil bag for reaction strip is unpacked.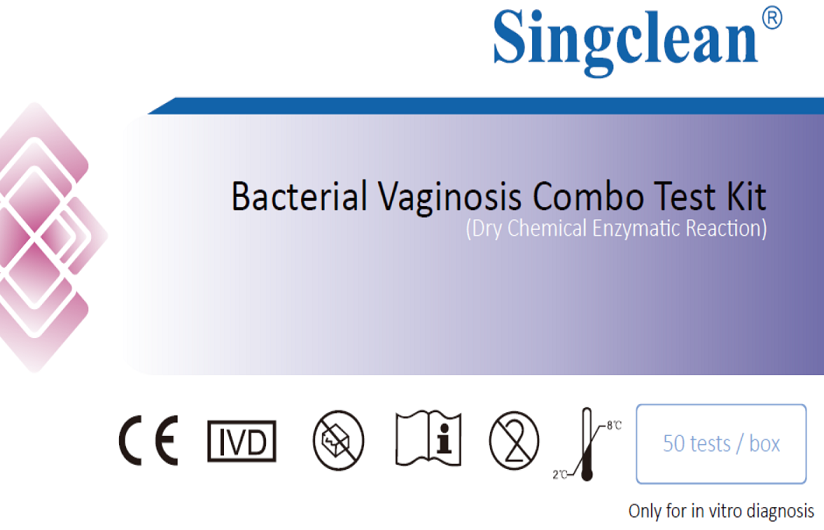 Specifications
Applicable scope
For qualitative determining hydrogen peroxide (H2O2) concentration, pH value, neuraminidase (SNa) and leukocyte esterase (LE)activity in female vaginal secretion; only serving as assistant in diagnosis of bacterial vaginosis.