Absorbable Gauze of Oxidized Regenerated Cellulose
Absorbable Gauze of Oxidized Regenerated Cellulose
[Main Structure and Performance]:
Absorbable gauze of oxidized regenerated cellulose (hereafter called Gauze) is made from regenerated cellulose as raw material, which is oxidized and woven in to gauze, and will degrade in the body without residual material. The main ingredient is carboxy-methyI cellulose. It is white with a pale yellow fabric and has a faint, caramellike aroma. This product is applied to the surface of the wound, with hemostatic efficacy. The product is shaped by a layer of medical packaging paper, sealed in an aluminum plastic bag, and then packed in a paper plastic bag.
[Principle of Action]:
The Gauze is highly carboxylated, can absorb erythrocytes, adhere to platelets and activate the clotting systems, thereby promoting hemostasis. After the Gauze has been saturated with blood, it swells into a brownish or black gelatinous mass which aids in the formation of a clot, thereby serving as a hemostatic adjunct in the control of local haemorrhage. Usually the
bleeding is stopped within minutes. The Gauze degradation in vivo begins after hemostasis, and its absorption rate depends on multi factors, including the dose used, the site being treated, and the degree of blood permeation.
[Dosage and Methods of Application]:
Check the integrity of sterile container, do not use if the package is broken. Remove the gauze from the aluminum-plastic bag, cut out a suitable and minimal size, place the cutted gauze on the hemostatic site and press firmly until hemostasis. The quantity is determined according to the bleeding site and the amount of bleeding. It has been reported that the gauze can be used in the following areas of surgery(except neurosurgery, ophthalmology, and urology): appendectomy, breast surgery, hernioplasty, gastric resection, operations to the throat and nose, liver and gall bladder operations, gynaecological operations, thyroid operations, treatment of superficial injuries, and so on.
[Precautions]:
1.Do not use if the package is broken.
2.Do not remove the Gauze before bleeding completely stops.
3.Since absorption of the product could be prevented in chemically cauterized areas, its use should not be preceded by application of silver nitrate or any other escharotic chemicals.
4.Precautions should be taken in otorhinolaryngologic surgery to assure that none of the material is aspirated by the patient.
5.Use of this product near large and medium blood vessels may result in vascular embolism.
6.This product can promote blood coagulation at the site of use. Excessive use of this product may cause thrombosis at the site of use.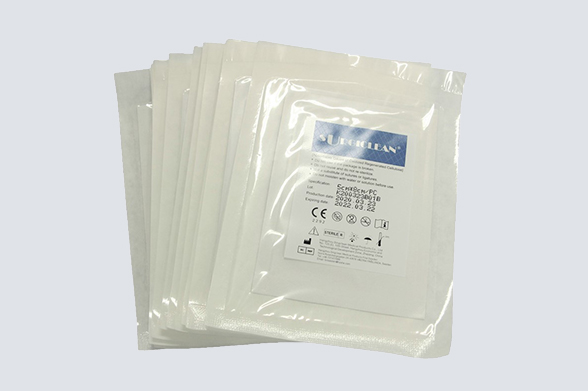 Specifications
2cm*3cm/pc
3cm*5cm/pc 
5cm*8cm/pc
7cm*8cm/pc
10cm*15cm/pc
10cm*20cm/pc
5cm*5cm/pc
5cm*7.5cm/pc
5cm*10cm/pc
5cm*25cm/pc
5cm*30cm/pc
5cm*35cm/pc
10cm*10cm/pc
30cm*30cm/pc
30cm*50cm/pc
22.5cm*22.5cm/pc
12pcs/box
Applicable scope
As a supporting hemostatic device, this product is suitable for various surgical procedures. lt can help control the bleeding of capillaries, veins and small arteries where bleeding can't be well controlled by traditional methods like ligation.